portfolio - films
---
a selection of my animation work
This page features a selection of my animation films, starting with the most recent projects. As an artist, I am interested in combining my work with other, complementary, art forms. In the past, this has led to several collaborations where my music complemented or supported the work of visual artists, film makers, and performing artists. Through my work as composer for animated films, I have developed a particular interest in animation as art form, which has culminated in my becoming an animated filmmaker myself.
why I began making films as well
Most film-music assignments are time-constrained and leave little room for self-expression, especially in the US, where I have lived since 1993. As I prefer a condition in which there is time and opportunity to experiment, I decided that it might be interesting to create my own animation films.
This has resulted in a number of animated shorts, initially just experiments, but lately I have completed several films with a strong narrative component. For all films I do the sound design and some of the music. I started animating using 3D Studio Max (Water Worlds and Ancient Mystery), but for all recent productions I use Reallusion 3D software and Magix Vegas Pro as video editor.
the list
An overview of my films. Click a thumbnail to play the movie on YouTube. More information is available at The Virtual Realist.
Knock on Wood - 2020
Some deceased are still alive. They're saved, but doctor and undertaker are at a loss. One day, two elderly ladies gossip at the wake. The "deceased" gets so irate that he jerks up, giving the ladies a scare, and the undertaker an idea on how to solve the problem.
---
A Glint of Hope - 2019
John stands at the bedside of his young wife, Clarissa, who is dying. After her passing, he faithfully visits her grave, until one day she appears as apparation and cites a poem imploring him not to grieve for her.
---
The Third Wish - 2016
Walter Pinhead has found a magic lamp on the beach. Upset after wasting two wishes, he makes an unfortunate third one that lands him inside the lamp and sets the genie free. The genie, by the name of Eugene, walks off, roaring with laughter. The next day, Pinhead is discovered by accident by his friend Xandra. This sets a series of events in motion that result in Pinhead regaining his freedom while returning Genie Eugene to his proper place inside the lamp.
---
Playing Dead - 2016
In this surreal story, Walter Pinhead finds the members of his Committee dead. However, the same Committee later attends his funeral, after Pinhead has died in a scooter accident. Fortunately, his girlfriend wakes him up; it was just a nightmare.
---
The End? - 2015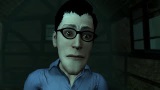 On Halloween Eve, Pinhead is summoned to a meeting of The Committee. Dreading those already, he makes a shocking discovery on top of that. It looks like the end, but is it?
---
Khenton's Curse: The Way to Lheandor - 2015
In a cursed space colony, Kazhandrah receives a message from her great-grandfather, Lheandor Tamarindh. He is dying, and they "need to come together one last time to find and say the final word." This final word will undo the curse and restore the colony to its former positive state. The film shows the first part of the journey to reach Lheandor.
---
The Lost Client - 2014
Private Eye Walter Pinhead is faced with quite a challenge when his client Alura Simmons is kidnapped! Who is behind it and why? Join Pinhead and his resourceful hacker friend Franciska on their quest to solve this puzzle, and, eventually, free Alura. My entry for the 2014 Pinhead competition, Kidnapped.
---
Shootout - 2013
Newt and John have long been rivals and the two desperados meet in the town of Lawless for a shootout, so that one may prevail. The bullets they buy from a local shopkeeper are not what they seem, and the fight remains undecided. Their obvious displeasure ends bad for the shopkeeper, but good for the local undertaker.
---
Radio Drama - 2013
A radio announcer suddenly collapses at the end of the show. Was his death natural or was it murder and, if so, who did it? Find out in this animated short, based on a late 1940s episode of the Five Minute Mystery radio play series, called Announcer's Delight.
---
Breezaway - 2013
An animated commercial for the imaginary product Breezaway, which does wonders after a night of serious drinking. This is just a fun clip that served as my entry for the 2013 Pinhead Ad Man competition.
---
Brain Trust - 2012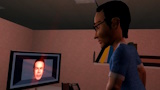 Walter Pinhead's Halloween takes a pleasant turn when he is asked out by the attractive new recruiter, Carlotta Panache. But what is she really up to? When Pinhead asks her to drive him back to the office later that evening to pick up his keys, he learns the gruesome truth.
---
Pinhead's Dilemma - 2011
A time machine transports Walter Pinhead to a time before his birth in 1950s England. His life being miserable, he ponders whether it would be better not to be born at all. This was my entry for the 2011 Pinhead Lost in Time competition. It won an award for Best Story.
---
Eel and Sucker - 2011
One sunny day, Mr. Eel is invited by Mr. Sucker for a game of dice. The unfortunate Mr. Eel is the real sucker in this story, because he loses everything, even his teeth! A traditional West Coat Indian tale, narrated in the Wiyot language.
---
The Case of the Two Fiancées - 2010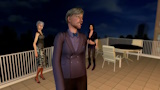 Inspector Thorne and his Sergeant Muggin are called to untangle the murder case of the "handsome and arrogant Broadway star," Keith Cameron, who has not one, but two fiancées! The story started out as an NBC radio play from 1951, which provided the dialog for the film. Due to YouTube length restrictions this movie is in three parts.
---
Water Worlds - 1999/2008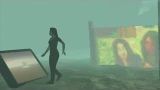 To escape a flooded landscape, a young woman enters an underwater world. During her search for a way out, she encounters various surprises, both pleasant and unpleasant. Will the exit she finally finds bring her any closer to her destination? This is a wide-screen remake of one of my early computer animation experiments in 3D Studio Max.
---
Ancient Mystery - 1999/2008
This 3D animation shows a glimpse of a long-forgotten world. This is also a wide-screen remake of one of my early computer animation experiments in 3D Studio Max.